1. The Contortionist's Handbook, by Craig Cleavenger
Goodreads description: "
John Vincent Dolan is a talented young forger with a proclivity for mathematics and drug addiction. In the face of his impending institutionalization, he continually reinvents himself to escape the legal and mental health authorities and to save himself from a life of incarceration. But running turns out to be costly. Vincent's clients in the L.A. underworld lose patience, the hospital evaluator may not be fooled by his story, and the only person in as much danger as himself is the woman who knows his real name."
My review: I enjoyed reading this book so much...I devoured it! It kept my interest the whole time through. I can't say that I am necessarily pleased with the ending, but I would still recommend this book!
2. Simple Home: Calm Spaces for Comfortable Living, by Mark Bailey, Sarah Bailey, and Debi Treloar

Goodreads description: "
The simple home is calm and uncluttered, with each item carefully chosen. Mark and Sally Bailey believe that good design means furniture and decoration that is useful, durable and honest. In the first part of the book, they explore calm Colors, Zen-inspired simplicity, and reclaimed or ethically sourced materials, while craft embraces the artisan's skill. Comfort means cozy textiles and warm wood, while tips from the Natural Cleaning chapter will nurture your home. Furniture is often multi-functional, and Curating Your Home looks at arranging your cherished collections. The Baileys then turn to Simple Spaces, showing you how to create welcoming Entrances, versatile Cooking and Eating spaces, Living Rooms with a great mix of personal items and adaptable furniture, soothing Bedrooms and tranquil Bathrooms. Finally they cover furnish Work Rooms with rescued desks and fittings."
My review: This book was filled with gorgeous, inspiring photos that made me want to completely redo my bedroom. There isn't much reading involved, but I can't say enough about how beautiful the photos were.
3. Fresh: Eating Healthy Never Tasted So Good, by Tony Polito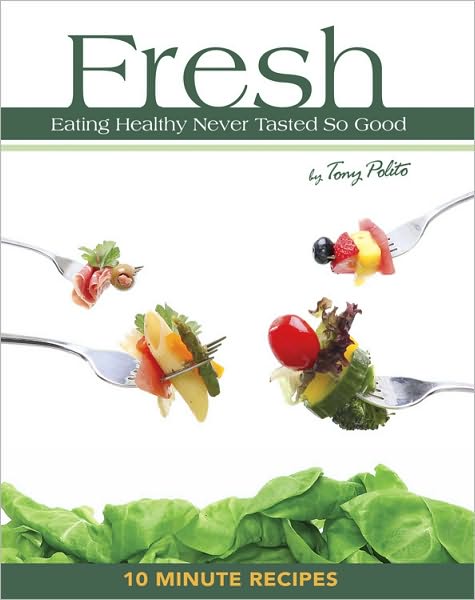 Goodreads description: "
If you're looking to improve your eating habits, if you're a vegetarian or gluten-free eater, if you want to get a fresh start on eating healthier balanced meals, if you want easy-to-prepare and time-saving meals with little clean up, or if you want to lose weight and learn how the body processes food you need "Fresh." Each recipe in this one-of-a-kind cookbook is $10.00 or less, and all recipes can be completed in one pot in 10 minutes or less with as little as 10 ingredients."
My review: This book was filled with bright and inspiring pictures of food, but there were not many vegan recipes, which made it less enjoyable for me. Also, some of the pictures did not match the recipes, which was a disappointment.
*all pictures via Barnes & Noble; be my friend on Goodreads here