So I made it through 56 books in 2014! I'm super stoked that I exceeded my goal. Tomorrow I will be posting all of the books I've read, but here are the reviews for the last 6 books. I am considering a different (and quicker) layout for reviews in 2015, but we will see how that plays out.
1.
The Fifth Agreement: A Practical Guide to Self-Mastery,
by Miguel Ruiz & Jose Luis Ruiz
GoodReads says:
"
The Four Agreements
provides the foundation for breaking thousands of agreements that create needless suffering and with
The Fifth Agreement
you recover all the power of your authenticity, which is who you really are when you are born."
Average Rating: 4.21
I said: 4/5 stars, "
While a lot of people might suggest skipping reading The Four Agreements and heading straight to this book, I disagree. I think a lot of valuable insight can be gained from relearning the four agreements. Part II of the book, which focused on the fifth agreement, confused me at first. It wasn't until the end of the book that I started to grasp the point the authors were trying to get across, so after I finished, I went back and reread the first half of Part II. Doing so helped me understand the message immensely."
2. Miss Peregrine's Home for Peculiar Children, by Ransom Riggs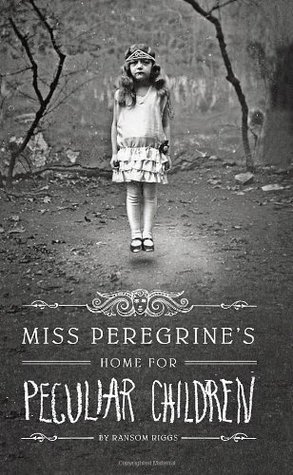 GoodReads says:
"
Miss Peregrine's Home for Peculiar Children is an unforgettable novel that mixes fiction and photography in a thrilling reading experience. As our story opens, a horrific family tragedy sets sixteen-year-old Jacob journeying to a remote island off the coast of Wales, where he discovers the crumbling ruins of Miss Peregrine's Home for Peculiar Children. As Jacob explores its abandoned bedrooms and hallways, it becomes clear that the children were more than just peculiar. They may have been dangerous. They may have been quarantined on a deserted island for good reason. And somehow—impossible though it seems—they may still be alive."
Average Rating: 3.79
I said: 5/5 stars, "
This book was a fascinating, fast-paced fantasy story that I could not put down. The plot of the story is so unique and really draws the reader in. It is considered a YA book, but I would argue that even adults would love it. As soon as I finished, I ran out to find the second book in the series at the library right away."
3.
The Girls' Book of Success: Winning Wisdom, Stars' Secrets, Tales of Triumph, and More
, by Catherine Dee & Ali Douglass
GoodReads says:
"
A collection of true stories, quotations, poems, and personal advice on how to set and achieve goals, divided into such categories as "Self-Confidence," "Perseverance," "Leadership," and "A Winning Image"."
Average Rating: 3.50
I said: 4./5 stars, "
This was a really cute book providing inspiration to teen girls on growing towards success. I liked how each chapter was set up with a main topic and quotes and true stories related to the topic. This would be a great book for teen or tween girls."
4. The Power of Now: A Guide to Spiritual Enlightenment, by Eckhart Tolle
GoodReads says:
"
Ekhart Tolle's message is simple: living in the now is the truest path to happiness and enlightenment. And while this message may not seem stunningly original or fresh, Tolle's clear writing, supportive voice and enthusiasm make this an excellent manual for anyone who's ever wondered what exactly "living in the now" means. Foremost, Tolle is a world-class teacher, able to explain complicated concepts in concrete language. More importantly, within a chapter of reading this book, readers are already holding the world in a different container--more conscious of how thoughts and emotions get in the way of their ability to live in genuine peace and happiness."
Average Rating: 4.06
I said: 3/5 stars, "
It wasn't until towards the end of the book that I really started to pick up the message. The book is great, but bound to go over the heads of the casual reader. I am looking forward to reading it again for a more in-depth insight that I may have missed the first time around."
5. Bargain Junkie: Living the Good Life on the Cheap, by Annie Korzen
GoodReads says:
"
In
Bargain Junkie
, Korzen shares her hilarious tales from the trenches--the garage sales, estate sales, thrift stores, rummage sales, and online auctions. Korzen haggles, scrimps, saves, and stretches her dollars and her imagination so she can afford to travel, dress well, and eat out whenever possible."
Average Rating: 2.55
I said: 2/5 stars, "
While this book did have some good tips to point out on thrifting and finding a bargain, I found a lot of the "humor" offensive and/or not funny."
6. Skinny Bitch Book of Vegan Swaps, by Kim Barnouin
GoodReads says:
"
A vegan lifestyle is the newest hot health trend—thanks in no small part to the smart, fearless, and number one
New York Times
bestselling Skinny Bitch books. But with so much conflicting information out there, it's not always easy to make the best choices. Now Skinny Bitch coauthor Kim Barnouin is back with a book that makes making the right vegan choice easy. In
Skinny Bitch Book of Vegan Swaps
, Kim Barnouin takes the mystery out of following a plant-based diet. It's a comprehensive, user-friendly guide that tells you what foods
look
healthy, but actually aren't, and explains how to avoid the stuff you don't want. And because Kim knows that the concerns of today's savvy eaters run the gamut from calories to carbon footprints, she explains it all."
Average Rating: 3.69
I said: 2/5 stars, "
This book focused primarily on showcasing brands that sell vegan 'cheat' food, such as faux chicken nuggets, pizza, ice cream, and more. While these foods are fun to eat every once in a while, the author seems to forget that whole foods (fruits, veggies, etc.) are the healthiest way to live vegan. Not to mention, a lot of the swaps are not readily available in all supermarkets and can be quite expensive. It is a good resource for an occasional indulgence, though."