Sorry I have been slacking a bit on getting posts out there. I promise that I'm going to get better at this soon!!
Until then, enjoy the reviews of the first five books I have read this year.
1.
A Girl Named Faithful Plum: A True Story of a Dancer from China and How She Achieved Her Dream
, by Richard Bernstein

GoodReads says:
"In 1977, when Zhongmei Lei was eleven years old, she learned that the prestigious Beijing Dance Academy was having open auditions. She'd already taken dance lessons, but everyone said a poor country girl would never get into the academy, especially without any connections in the Communist Party of the 1970s. But Zhongmei, whose name means Faithful Plum, persisted, even going on a hunger strike, until her parents agreed to allow her to go. She traveled for three days and two nights to get to Beijing and eventually beat out 60,000 other girls for one of 12 coveted spots. But getting in was easy compared to staying in, as Zhongmei soon learned. Without those all-important connections she was just a little girl on her own, far away from family. But her determination, talent, and sheer force of will were not something the teachers or other students expected, and soon it was apparent that Zhongmei was not to be underestimated."
Average Rating: 4.03
I said:
4/5 stars, "
This was an uplifting and inspiring book about a young Chinese dancer from the country who managed to succeed despite the fact that the odds were stacked against her. As someone who dances and knows how hard the dance world can be, I found this book to be a different perspective on the world of dance."
2. Skinny, by Diana Spechler
GoodReads says:
"
After her father's death, twenty-six-year-old Gray Lachmann findsherself compulsively eating. Desperate to stop bingeing, she abandonsher life in New York City for a job at a southern weight-losscamp. There, caught among the warring egos of her devious co-counselor,Sheena; the self-aggrandizing camp director, Lewis; his attractive assistant,Bennett; and a throng of combative teenage campers, she is confronted by acaptivating mystery: her teenage half-sister, Eden, whom Gray never knewexisted. Now, while unraveling her father's lies, Gray must tackle her ownself-deceptions and take control of her body and her life."
Average Rating: 2.97
I said: 3/5 stars, "

This book was a quick-read, standard YA fiction story about a young woman dealing with what else, but her weight. The main character proves to be a bit superficial and self-centered throughout the story. It was a decent read, but it did not blow me out of the water by any means."
3.
Sisterland
, by Curtis Sittenfeld

GoodReads says:
"From an early age, Kate and her identical twin sister, Violet, knew that they were unlike everyone else. Kate and Vi were born with peculiar "senses"—innate psychic abilities concerning future events and other people's secrets. Though Vi embraced her visions, Kate did her best to hide them. Now, years later, their different paths have led them both back to their hometown of St. Louis. Vi has pursued an eccentric career as a psychic medium, while Kate, a devoted wife and mother, has settled down in the suburbs to raise her two young children. But when a minor earthquake hits in the middle of the night, the normal life Kate has always wished for begins to shift. After Vi goes on television to share a premonition that another, more devastating earthquake will soon hit the St. Louis area, Kate is mortified. Equally troubling, however, is her fear that Vi may be right. As the date of the predicted earthquake quickly approaches, Kate is forced to reconcile her fraught relationship with her sister and to face truths about herself she's long tried to deny."
Average rating: 3.35
I said:
4/5 stars, "
I thoroughly enjoyed this book. This is probably in part due to my love for all things new age and spiritual (the two main characters are psychics, but the new age-ness of this is extremely downplayed). I also found the story line addicting, and the writing wonderfully executed. I may have not personally been pleased with the ending, but I could not put this book down."
4. No Experience Necessary: The Culinary Odyssey of Chef Norman Van Aken, by Norman Van Aken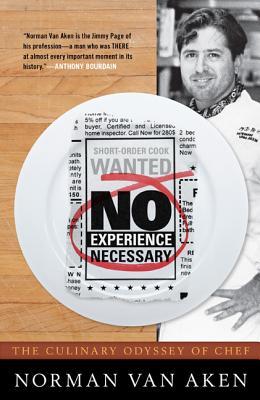 GoodReads says:
"
No Experience Necessary is Chef Norman Van Aken s joyride of a memoir. In it he spans twenty-plus years and nearly as many jobs including the fateful job advertisement in the local paper for a short-order cook with no experience necessary. Long considered a culinary renegade and a pioneering chef, Van Aken is an American original who chopped and charred, sweated and seared his way to cooking stardom with no formal training, but with extra helpings of energy, creativity, and faith. After landing on the deceptively breezy shores of Key West, Van Aken faced hurricanes, economic downturns, and mercurial moneymen during the decades when a restaurant could open and close faster than you can type haute cuisine. From a graveyard shift grunt at an all-night barbeque joint to a James Beard award finalist for best restaurant in America, Van Aken put his trusting heart, poetic soul, natural talent, and ever-expanding experience into every venture and helped transform the American culinary landscape along the way. In the irreverent tradition of Anthony Bourdain s Kitchen Confidential, and populated by a rogues gallery of colorful characters including movie stars, legendary musicians, and culinary giants Julia Child, Emeril Lagasse, and Charlie Trotter No Experience Necessary offers a uniquely personal, highly-entertaining under-the-tablecloth view of the high-stakes world of American cuisine told with wit, insight, and great affection by a natural storyteller."
Average rating: 3.54
I said: 3/5 stars, "

There were times when this 'zero to hero' chef memoir seemed to read slowly and drag on. Despite this, I still enjoyed reading about how the chef's passion for cooking grew through time. There were times when I really enjoyed this book, and there were times when I just wanted to "finish it already"."
5. Farm Fresh Murder, Paige Shelton
GoodReads says:
"Becca Robins leads a simple life, making jams and preserves on her very own farm. But when there's a murder in her quaint little town, she puts herself in the line of fire to defend her friend's innocence-and goes from making jam to being in one."
Average Rating: 3.66
I said:
5/5 stars, "I read this entire book in a day in part because it was a quick read, but also because I couldn't put it down. I am very passionate about farming/homesteading/etc., so the background that the story is set against was particularly enjoyable for me. I've never considered myself much of a murder mystery fan, but I can't wait to read the next book in the series."
❀
Let's Connect
Bloglovin' * Shop My Closet * Pinterest * Tumblr