As I promised last week, here are my reviews and ratings for books 26-30 of my 50 Books in 2014 goal.
As always, become my friend on GoodReads to see what I'm reading:
goodreads.com/wildflowerchild
1.
The 50 Best Ways to Simplify Your Life
, by Patrick Fanning and Heather Garnos Mitchener
GoodReads says:
"
In The 50 Best Ways to Simplify Your Life, proven cognitive methods do what religious ideology, radical ecology, or just plain marketing fluff can't do: help readers understand what matters most to them and achieve lasting balance. Using the kinds of practical techniques that can lead to real personal change, author Patrick Fanning and self-help editor and writer Heather Garnos Mitchener first help readers examine their values and prioritize meaning. Then, through a series of short chapters containing exercises that run the gamut from simple tasks to soul-searching moral inventories, they introduce readers to an array of interactive, do-able strategies will help readers find a true center of focus midway between work and home, pleasure and discipline, television and conversation."
I said: 4/5 stars, "
This book was a nice quick read that gave fifty ways to simplify in various ways in life including home, work, money, relationships, and spirit."
2. Farmacology:What Innovative Family Farming can Teach Us About Health and Healing, by Daphne Miller
GoodReads says: "Family physician Daphne Miller long suspected that farming and medicine were intimately linked. Increasingly disillusioned by mainstream medicine's mechanistic approach to healing and fascinated by the farming revolution that is changing the way we think about our relationship to the earth, Miller left her medical office and traveled to seven innovative family farms around the country, on a quest to discover the hidden connections between how we care for our bodies and how we grow our food. Farmacology, the remarkable book that emerged from her travels, offers us a compelling new vision for sustainable health and healing—and a wealth of farm-to-body lessons with immense value in our daily lives."
Average Rating: 4.14
I said: 5/5 stars, "
I loved this book! It is so important for doctors to follow the path of Dr. Miller here and look for alternatives to shoving big pharma down their patients' throats. Health is so deeply tied to how we eat and go about our daily lives, and Dr. Miller does a wonderful job of explaining this in a book that is simple enough for anyone to understand."
3. Edible Plants of Atlantic Canada: Field Guide by Peter Scott
GoodReads says:
In an era before supermarkets became our main source of food, most people knew which wild plants were edible and how to prepare them for delicious meals. The woods, clearings, heaths, and seashores of Atlantic Canada are home to a wide variety of edible plants. In this book, author Peter Scott provides a wealth of information on more than sixty wild edible plant species. This easy-to-use guide includes important details about identification, habitats in which the plants are found, basic recipes, a glossary, and references, so that everybody can enjoy the bounty that exists outsides our doors.
I said: 3/5 stars, "
I read this book while I was on vacation in Cape Breton, Nova Scotia, and while this book certainly serves it's purpose and showcases a variety of the edible plants in Atlantic Canada, I wish each individual plant page had been arranged better. There is no way to flip to a page on a plant and find a quick ref about it without having to read the entire page. Also I wish there had been more diagrams relating to leaves, plant structure, etc."
4. Wild: From Lost to Found on the Pacific Crest Trail, by Cheryl Strayed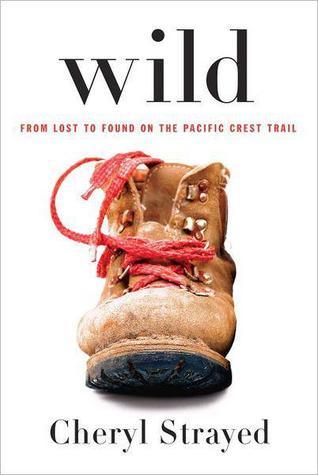 GoodReads says: "A powerful, blazingly honest memoir: the story of an eleven-hundred-mile solo hike that broke down a young woman reeling from catastrophe—and built her back up again."
Average Rating: 3.91/5
I said: 5/5 stars, "
I was sucked into this book from the second I started reading. This book is an honest look into the life of an errant young woman who starts on a life-changing, yet ill-prepared journey of a lifetime."
5. A Tine to Live, A Tine to Die, by Edith Maxwell
GoodReads says: "It's harvest time in Westbury, Massachusetts, and novice farmer Cameron Flaherty hopes to make a killing selling organic produce. But when a killer strikes on her property, her first foray into the world of organic farming yields a bumper crop of locally sourced murder…
Cam's first growing season has gotten off to a slow start, but her CSA is flourishing thanks to a colorful group of subscribers led by Lucinda DaSilva, an enthusiastic Brazilian volunteer who's vowed to eat nothing but locally produced food for one year. When Cam fires her only employee, local handyman Mike Montgomery, because he won't follow organic growing practices, it seems like just another day at the office—until she finds him with a pitchfork sticking out of his neck.The police suspect Cam of Mike's murder, but when their investigation goes nowhere, Lucinda joins Cam in the hunt for the real killer. In a small New England town full of eccentric locavores, there's no shortage of possibilities—from a neighboring farmer who competes with Cam for customers to a Swedish chef whose romantic designs on her have recently taken a turn for the odd. And then there's the local militia group with its decidedly nonlocal agenda…To clear her name, Cam will have to dig up secrets buried deep beneath the soil of Produce Plus Plus Farm. And she'll have to catch a murderer whose motto seems to be "Eat local. Kill local." "
I said: 4/5 stars, "
This book was a pretty standard mediocre-written mystery novel, BUT I absolutely loved the farming aspect thrown in. It made the book for me. Plus who doesn't love a cheesy mystery? I couldn't put the book down!

"